Asa Butterfield has said Gary Oldman was "very down to earth" on the set of sci-fi film The Space Between Us, despite his "legendary" status.
The 19-year-old plays a boy born on Mars who visits Earth for the first time, and says working with Oldman was "lovely".
"Even though he's kind of legendary I guess, he doesn't feel like that when he comes on to set," Butterfield said.
"He's very down to earth and he's there to create and tell the story which you don't always get with actors like that, so it was nice."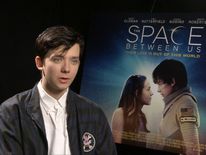 Still, the teenager didn't ask for advice from Oldman, who is known for roles in the Harry Potter and Batman films.
"You just want there to be complete trust for you to be able to be on the same level and just collaborate," he said. "You learn things from watching them, rather than being told explicitly."
Butterfield rose to fame after playing the main character in The Boy In The Striped Pyjamas, aged ten.
He admits that while his own childhood was unique, it wasn't that which helped him relate to his Martian character Gardner Elliot.
"I think what I really connected with Gardner on is our curiosity and our inquisitiveness. I love to find out new things and I always like to find out about new technology so we're both smart in that sense," he said.
But Butterfield admits that going in to space isn't on his own personal wish-list.
"I did love the idea of being in zero gravity, and just having fun in that," he said.
"So I'd love to do that, but I don't know about space."
The Space Between Us is out in cinemas in the UK on 10 February.