French star Johnny Hallyday has announced he is being treated for cancer, but said the condition is not life-threatening.
The 73-year-old made the announcement on his Twitter page, warning fans he was "screened a few months ago" but is "doing well and in good physical condition".
The star, known as the French Elvis, attacked celebrity magazines for "spreading alarmist information" about his health.
"The amount of information circulating about my health has shocked me profoundly," he wrote.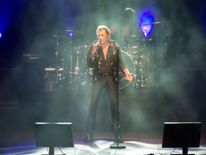 "Modesty and discretion should still be observed in this sort of case, even if only out of respect for my own."
Hallyday, born Jean-Philippe Smet, is one of France's biggest entertainers, having sold more than 110 million records, although his profile never quite crossed the Atlantic.
In 2009 he had a tumour removed from his colon and had an operation for a hernia in Paris.
"So, I assure you, I am doing well and am in good physical fitness," he said on Wednesday.
"They did indeed discover cancerous cells a few months ago, for which I am currently undergoing treatment. I am being monitored by some excellent professors, in whom I have total confidence. My life is not in danger today.
"It's a battle that I am fighting proudly with my wife Laeticia at my side. I will go to the end for all those who love me."