Naturalist and broadcaster Chris Packham has been charged with assault after raising the alarm about what he alleges is the illegal trapping of wild birds.
He was on the Maltese island of Gozo making an independent film when he called police after discovering a cage containing what he believed were protected species.
Later, he said he was assaulted while filming on a roadside when a vehicle appeared and two men jumped out.
However, he is the one who has been charged over Tuesday's incident and he is due to appear in court in Malta on Thursday morning.
In a statement, the wildlife campaigner's agent said: "Whilst filming an interview on the public roadside, a vehicle appeared and two men jumped out shouting at Chris and his team, shoving them aggressively."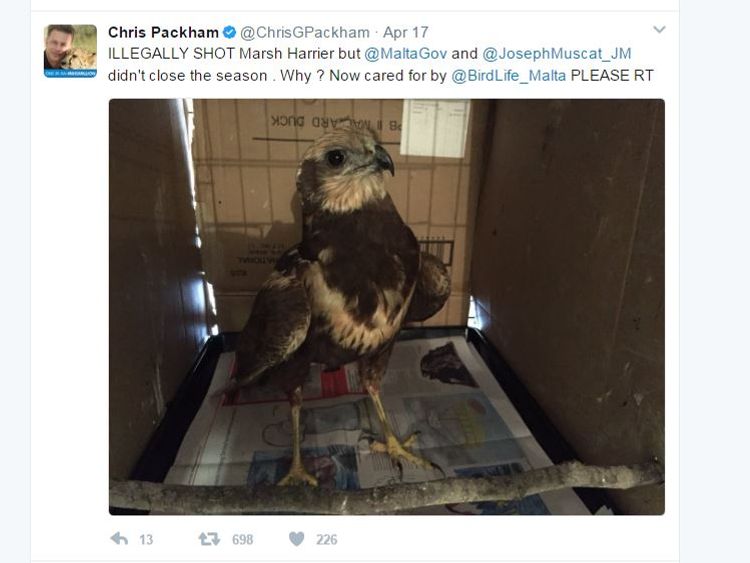 Police were present, but "immediately took the side of the aggressors and manhandled Chris and other members of the team off the site", the statement added.
The BBC Springwatch presenter tweeted: "Malta! You point out suspected criminals to the police … and you end up in court!"
He also shared a video in which he said he had spent two hours at a police station, and been charged with "using force against any person, with an intent to insult, annoy or hurt them".
He insisted he was "completely innocent" – and that he was the victim of being "pushed and jostled around".
Malta is the only EU country that allows a recreational spring hunting season in which birds can be shot. That season ended last week, meaning bird trapping is illegal.
Campaign group BirdLife Malta, which is working with Packham on his documentary, Malta: Massacre on Migration, says the country has the densest population of hunters in the EU and that illegal hunting is a large-scale problem throughout the year.
Maltese police have yet to comment on the incident.