European leaders should not allow Brexit talks to progress due to a "very disturbing" deadlock on the UK's exit bill, the EU's chief negotiator has declared.
Michel Barnier revealed he would again advise the EU27 not to progress to talks on a future trade relationship when leaders gather in Brussels on 19 October.
:: As it happened: Barnier and Davis give update on Brexit talks
At a joint news conference with Brexit Secretary David Davis following the conclusion of the fifth round of Brexit negotiations, Mr Barnier claimed the latest talks had not made "any great steps forward".
His comments saw the pound sterling sink against both the dollar and euro.
Mr Barnier said he would not be able to report "sufficient progress" on the key withdrawal issues – the financial settlement, citizens' rights and Northern Ireland – for him to tell EU leaders to sanction the second phase of negotiations.
The European Commission official said the Brexit bill remained a key sticking point in talks, with "technical discussions" but no formal negotiations on the subject this week.
"We are at a state of deadlock on this question, which is very disturbing," he said, before declaring the EU would not make "concessions" on any of the three divorce issues.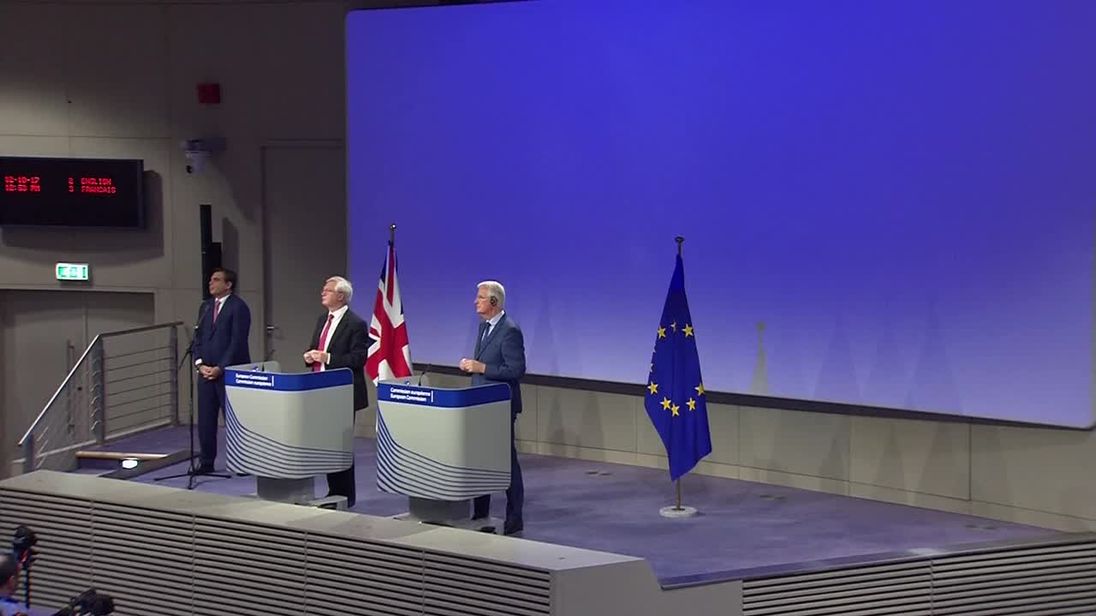 Mr Davis admitted there was still "much work" to be done, but said there had been "good progress" on divorce issues.
The Brexit Secretary attempted to pressure the EU to loosen its strict negotiating guidelines, pointing out some withdrawal issues were "dependent on discussions on our future relationship".
He added: "As I've said before, we are ready and well-prepared to start those discussions.
"So, our aim is to provide as much certainty as possible to business, citizens and the EU.
"And on this we are making real and tangible progress, but I make no secret of the fact that to provide certainty we must talk about the future."
But Mr Barnier insisted he will "scrupulously" follow the framework for negotiations handed to him by the 27 EU member states, although he offered some hope Brexit talks could progress before the end of the year.
He said: "With political will decisive progress is within our grasp within the next two months."
Following the news conference in Brussels, Labour's shadow Brexit secretary Sir Keir Starmer urged Mr Davis to request an additional emergency round of talks before next week's European Council summit.
More follows…